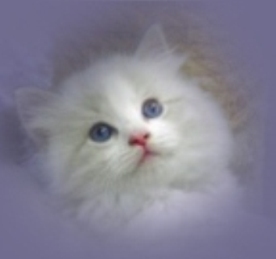 TICA Regional Winner, Supreme Grand Champion, 7th
Best Longhair in the Mid-Atlantic Region 2006-2007,
14th Best Cat in the Mid-Atlantic Region 2006-2007,
CFA Champion, 3rd Best Ragdoll in the Southern
Region 2006-2007.

Another Dreama/Tyler stunning beauty. Raina is a
beautiful, perfectly marked blue bicolor girl with
exquisite blue eye color. Raina did fantastic in the
show halls and was awarded many Best and 2nd Best
Cat ribbons in CFA and TICA. We are very proud of
her as is Dreama and Tyler! Thank you Carolyn and
George for showing and loving our baby.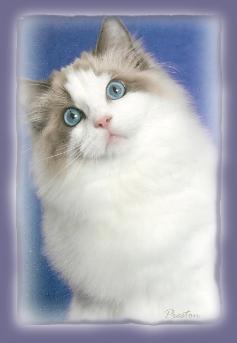 Regional Winner and 11th Best Kitten and 2nd Best of
the Best Kitten at the International Ragdoll Congress
2006-2007. Supreme Grand Champion 2007-2008; he
achieved his SGC status in only 5 shows.
Greg and Jeanie Brooke adopted this huge boy from
Dreama and Tyler. He weighed 16 pounds at 10 months
of age! He is spoiled rotten and knows it! Thanks,
Jeanie, for loving and showing Elvis.

Here is our Supreme Grand Champion male.
He received two Best Cat finals in his first
adult show! I cannot describe how wonderful
he is. His temperament is to die for, he has
eye color that no picture can truly capture, and
has an excellent coat; truly the ultimate
package. Thanks to my good friends George
and Carolyn Font for our treasure.

This stunning boy is another handsome son
from Dreama and Tyler; he is Elvis' littermate.
He got four finals in his first and only show
and is going to a show soon and we expect
him to achieve his Grand Champion or
Double Grand Champion status at that time.
He is then going to show and live in my
homeland, Germany.

This is the first SGC we have bred of our
own and we are quite proud of her. Her
father is Tyler and her mother is Kassi. She
is 2nd Best Ragdoll, 5th Best Longhair Cat,
19th Best Allbreed Cat, 2nd Best Kitten and
Best Ragdoll Kitten in the Great Lakes
Region. She is also the 3rd Best Ragdoll
Kitten in TICA for the 2007-2008 season.

This is our first SGC and she has the sweetest face and
darkest eyes. She was the 12th Best Long Hair Ragdoll for
the year 2005 and she is also a CFA Champion. You will
also note that she is the mother to many of our show
babies; we just love her dearly.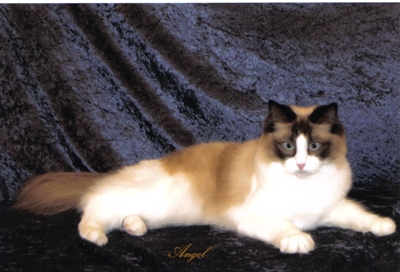 This is our seal bicolor girl. She went to the shows
with Dreama and achieved her DGC status. She is the
sweetest girl we have and loves being a mommy; she
is Holly's mommy.

This is our blue mitted boy and father to
many of our show cats. He is a very sweet
boy and has a big head. He was the Best
Blue Mitted Ragdoll in the Great Lakes
Region for the year 2004-2005.
Unfortunately, he did not like to show so he
is now a pet and sire in our cattery.
Website Designed By
Ridgecreek Web Design
All Rights Reserved