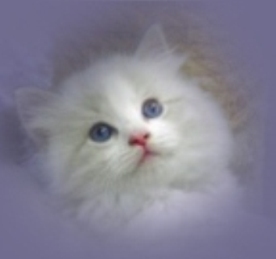 Welcome to our home. We are a small cattery located in NE Ohio,
dedicated to breeding the best quality Ragdoll pet kittens since March
of 2002. Our cats and kittens are raised underfoot along with our pet
cats and dogs. All kittens are CFA and/or TICA registered. We also
have a Basset Hound and mini Dachshund that love to help socialize
everyone! Please contact us at RockinBlues to check availability or to
be put on our 'wish list', or you may call us at 330-645-0952. Pet
kittens are priced at $650.00, plus shipping. We are equipped to
accept PayPal for a small fee.

All kittens will be spayed/neutered prior to leaving our home at the
age of 12-14 weeks, no exceptions. They will also have age
appropriate vaccines and wormings, along with a nice kitten pack.
We do not allow declawing under any circumstances, your kitten will
be using a proper scratching device when it comes to your home.
Please click on the 'Save a Paw' link on my links page for information
on this procedure. We also do not allow our babies outdoors, mostly
due to their extremely docile nature. We can ship via special air
service for a fee. You are more than welcome to pick up your kitten at
our cattery.

Ragdolls are little children in fur coats. Our babies will follow you
around your home, wishing to be a part of your every endeavor. They
like dogs and children and are very affectionate. Ragdolls enjoy very
much their interaction with humans and when you return home you
will even find them waiting for you at the door. Don't be surprised
when they play fetch! Their coat is non matting, minimal shedding
and requires little to no upkeep, other than grooming occasionally
with a comb or pet brush. They enjoy riding in the car and even travel
well by plane. We truly believe they are the ultimate pet.

Site updated February 12, 2009
This site best viewed at a
resolution of 1024 x 768
Webset & Website Designed by
Ridgecreek Web Design
All Rights Reserved