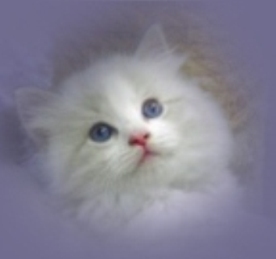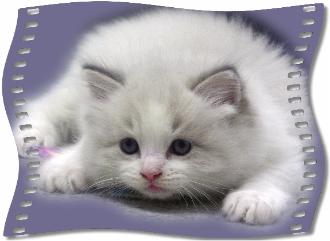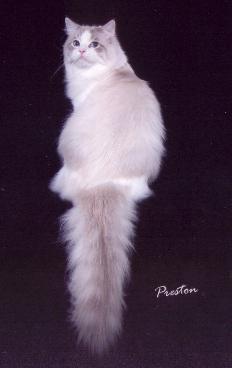 Take a look at our blue lynx bicolor boy from Ridgecreek Ragdolls.  He is the Best Blue Lynx BiColor in the Great Lakes region for the year 2006/07.  The photo at the left was taken when Bowie was a little tyke and the one on the right side was taken at the age of 8 months and 13 1/2 pounds!  Huge, beautiful, gentle giant.  He is momma's boy and we are loving him as an alter in our home.  Mary is trusting me with a very special boy.  Thanks, Mary!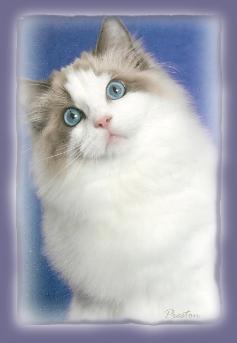 Greg and Jeanie Brooke adopted this huge boy from
Dreama and Tyler. He weighed 16 pounds at 10 months
of age!  He is spoiled rotten and knows it!  Thanks,
Jeanie, for loving and showing Elvis.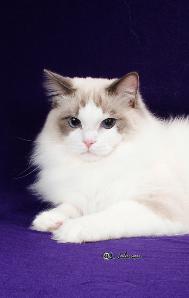 Another beautiful alter from Dreama and
Tyler.  He is Raina's littermate, big boy
again and Elvis' brother from a different
litter.  His eye color is super dark just
like his mommy.  We love this boy and he
loves to sleep with my husband every
night.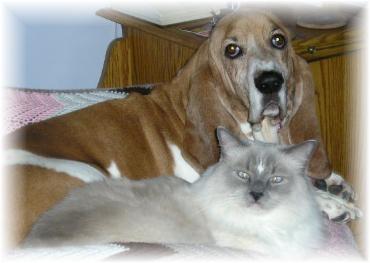 Meet Coopurr, our very first Ragdoll, a blue mitted.  
He is full of what we call cattitude, very entertaining
and is the first one to greet everyone that comes to
the door.  He is relaxing with our Basset Hound,
Thelma.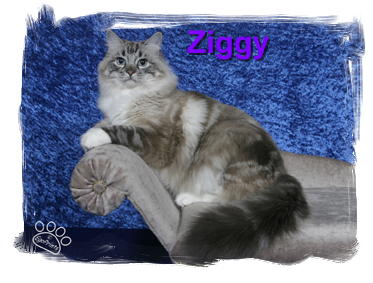 Ziggy is a gorgeous seal lynx mitted.  She
weighs almost 15 pounds; a nice big floppy girl.
Thanks, Lora, for such a beautiful girl.
Website Designed By
Ridgecreek Web Design
All Rights Reserved